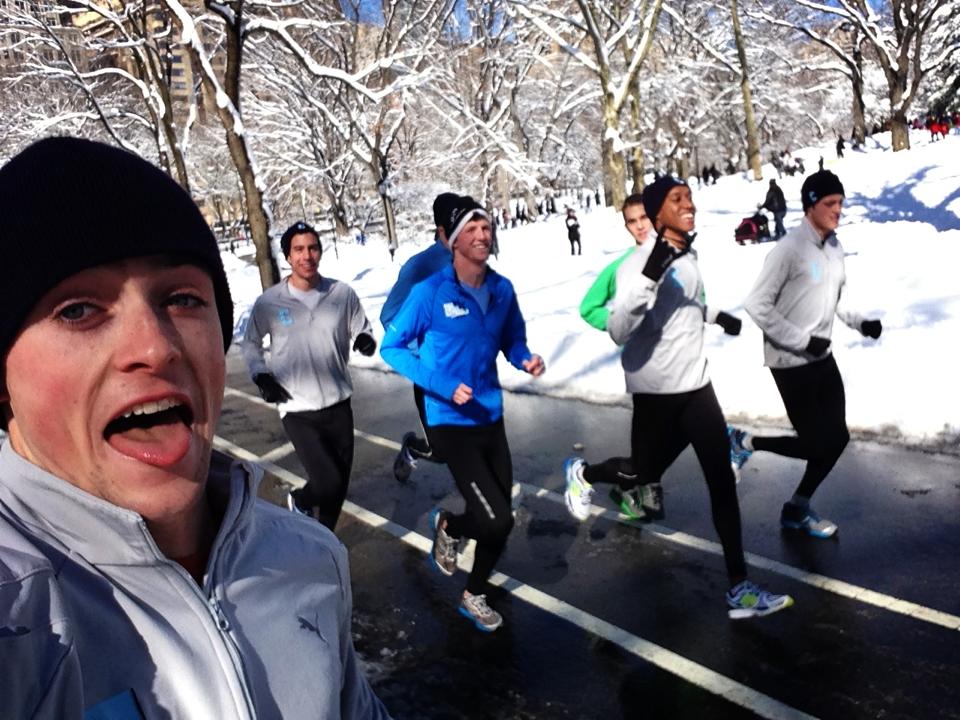 Find A Family - COLLEGE TRACK AND FIELD RECRUITING
NICO COMPOSTO - DISTANCE RUNNER - COLUMBIA UNIVERSITY / LOYOLA HIGH SCHOOL (CHICAGO)
Picking which college you are going to attend is one of the coolest choices you will make in your life. You get to pick where you are going to spend four years and, more importantly, with whom you are going to spend those years. My name is Nico Composto. I ran under Coach Wood at Columbia University, where I enjoyed nearly every day of the four years I spent in New York with the Columbia team. I really believe that the reason I had such an awesome college experience is that when I was being recruited, I considered one factor more than any other in picking a college: I chose the school with a team that acted most like a family. I will be honest with you, when I was in high school, I didn't fit in. I was a skinny kid with a bowl cut, who wore cargo shorts a little too frequently. My legs were like toothpicks coming out of the gaping leg-holes of my shorts. I never stood a chance.
From the beginning of high school, anytime I tried to approach a girl my tongue got all dry and the best I could do was squeeze out a "Hi," avoid eye-contact and retreat to the nearest corner to process my embarrassment. Running, though, always made me feel at home. I could go out and pound miles anytime I wanted. I just loved watching myself get faster. That is the coolest thing about running, you can tangibly see your times drop as you improve. Sadly, this didn't lead to me being nominated Prom King. So, as I began looking at college, I insisted on finding the team that I loved most. Sure, I wanted to go to a good school, but that didn't matter as much to me as finding the people I wanted to be around. I wanted to be on a team that threw out one-liners like it was a Rodney Dangerfield movie. I wanted friends that would force me to talk to the girls who made my mouth fill up with cotton, and who would only make fun of me a little when I was eventually rejected. I wanted a team that trained like animals every day, clawing from the bottom and trying to beat teams that are etched in the history of cross-country greatness. I didn't want to go to Oregon or Wisconsin or Villanova… I wanted to be on the team that beat them even when no one knew who we were.
Well, I found that team. Just before my senior year in high school, I talked to a friend who was running in college and he told me to look at Columbia if I wanted to be a good runner. My response, "Who is Columbia?" One of the best schools in the world and no one west of Philadelphia has ever heard of it. But that was what I wanted. I wanted to be on a team that no one had heard of and to grow that team with a group of friends. That's what we did. The recruiting coach at Columbia was my first contact. He made sure to constantly tell me that if I went to Columbia, we would do great things. That is the first thing I would look for in finding your college running family: Find a coach who genuinely wants you on the team, who believes in you and believes in the program. Find the coach you trust the most. If they sound like they are selling snake oil, they probably are. Find the coach with integrity.
My next step in picking Columbia was to find the team with whom I best fit. For me, it took about five minutes on my official visit to know that Columbia was the place for me. All the guys seemed so tight. They made fun of each other more than any group of people I had ever met. By the end of the visit, they were making fun of me. I knew I was at home. I knew I was going to go there because I felt like I couldn't let these guys down and I also knew that they would never let me down.
To anyone looking to run in college, I would recommend making your top priority finding a group of people with whom you feel most at home. At the end of the day, those people, your coaches, and team are who you are going to spend most of your time within your four years as an athlete. You should love those people. I can't guarantee that every day will be perfect and that things won't tough. But if you find a family instead of just an athletic team, you will love college and love running and love life.